[Media] Techvalley, an Industrial X-ray Specialized Company
본문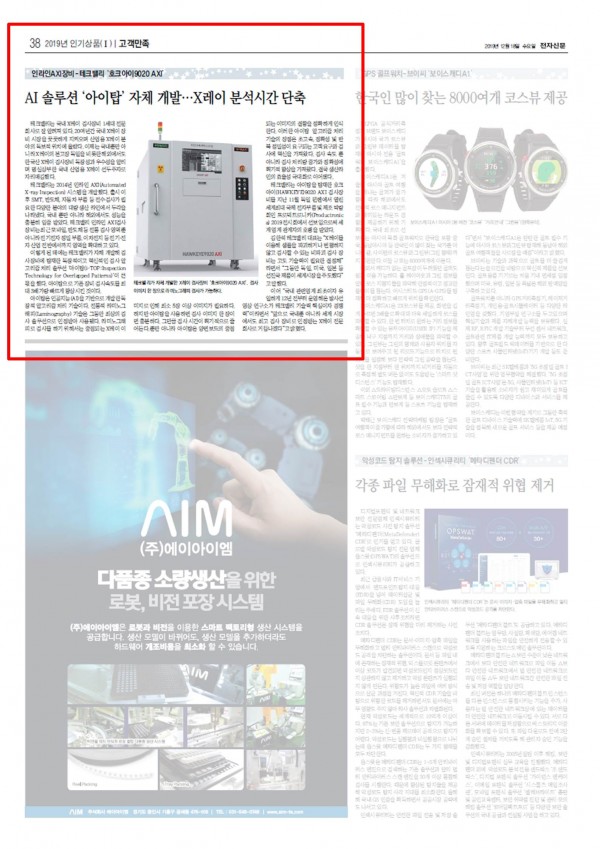 Techvalley 'HAWKEYE 9020 AXI' - Inline AXI equipment 
Developed 'i-TOP', a technology for processing inspection solution based on AI 
▶ Media : Electronic News (etnews)  
▶ Date of issue : 18 DEC, 2019 (38page & 8page)  
Techvalley's flagship product is the Hawkeye 9020AXI, an automated x-ray inspection solution based on a unique AI Platform, 
  fully developed in-house and with patents pending on key technologies.
It is a unique, revolutionary inspection solution to automatically determine the quality of PCBA's, combining ultra-high speed, 
  accuracy and repeatability.
Laminography has long been accepted as the best solution for the automated x-ray inspection of PCBA's, but this product takes
  in-line inspection to a whole new level.
The i-TOP (Inspection Technology for Overlapped Patterns) is a unique algorithm processing technology based on 
  Artificial Intelligence and uses only one image for the inspection. Traditional laminography techniques require five images or more. 
i-TOP accurately recognises defects that are challenging due to overlapping devices on double sided boards.
This increased throughput and improved accuracy maximises the efficiency of production lines and dramatically improves 
  first time pass rate. The Hawkeye9020AXI is up to 70% faster than other systems, with a false call rate, down to below 3%. 
These numbers proved in an evaluation using Samsung 5G products. 
The Hawkeye 9020AXI is the perfect in-line x-ray inspection solution for complex double-sided assemblies and demanding 
  packages including: SiP, PoP, SoP
The Hawkeye9020AXI functions perfectly as an automated inspection system without any human interaction. All data collected 
  can be stored and also exported into management information systems, therefore the Hawkeye9020AXI is fully ready for integration
  into Smart Factory and Industry 4.0 concepts.